---
We're Here to Deliver
Admittedly, one of the most exciting parts about staying in a hotel suite is ordering room service. There's a feeling of nostalgia, anticipation, and perhaps a bit of dignified royalty – for there is little that makes us feel as important as getting something delivered to our door.
At Sandia Resort & Casino, we want to make you feel like the important guest that you truly are. Whether you're ordering for the fun or to merely satiate your appetite after a long day's travel, we're here to deliver – the best food and the best service. So sit back, relax, and wait for the food to come to you.
Choose from a variety of menu options to refuel your weary, traveling soul or parched belly after a night at the Tlur Pa Lounge. Whether you're looking to stick to a strict diet or ready to indulge, we have several delectable meals waiting for you!
Sandia Resort & Casino in-room dining features select menu items from the Council Room Restaurant and Bar.
---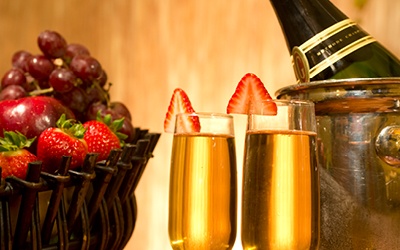 Hours
Sunday – Thursday: 7am – 9:30pm
Friday & Saturday: 7am – 10:30pm
To order, choose your selections from the full-service in-room menu, then dial Room Service from your guest room phone.