Top Reasons To Join Our Peak Rewards Club Today
Earn valuable Peak Points just by playing Slots, Table Games, Poker and Bingo at our casino.
You can redeem your Peak Points for dining, hotel, gift certificates, gas, golf, concert tickets and more.
Become eligible for exclusive invitations to concerts, dinners and events.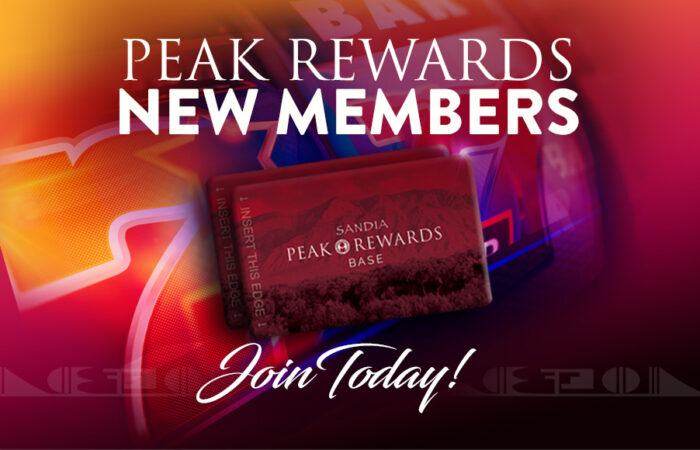 Peak Rewards: Players Club Program Rules
1. Members of Peak Rewards must be 21 years or older.
2. Valid government issued photo identification must be presented to enroll in the Players Club Peak Rewards.
3. It is the Players Club member's responsibility to ensure that the Peak Rewards card is properly inserted in the gaming machine reader, the reader is functioning normally when playing slots, and the word "accepted" appears on the reader. It is also the Players Club member's responsibility to present the card to a Sandia Resort & Casino employee when playing Table Games, Poker, and/or Bingo so that the department personnel is aware of the member's play.
4. Peak Points have no cash value and cannot be redeemed for cash.
5. The Peak Rewards card is a privilege and may be revoked at any time.
6. The Players Club member is required to present valid government issued photo ID bearing the same name or similar (preferred) that is on their
Peak Rewards card when redeeming Peak Points at any location or the Players Club. The Peak Rewards card and any accrued Peak Points are non-transferable.
7. A Peak Rewards card may not be used by any person other than whose name appears on the front of the card. Use of the card to accrue points by anyone else, both knowingly and unknowingly, may result in the forfeiture of all accrued points and membership privileges may be revoked.
8. Accrued Peak Points are valid for the cardholder only and cannot be used in conjunction with any other program or promotion unless otherwise stated by Casino Management.
9. All patron disputes will be resolved in accordance with the Sandia Casino Dispute Resolution Policy.
10. Management reserves the right to adjust any point balance resulting from a machine malfunction, operator error or any other reason it deems valid.
11. Accounts with no play after 18 months may be deactivated from the Peak Rewards membership and all points earned will be forfeited.
12. Sandia Resort & Casino is not responsible for the misuse of lost or stolen cards. Replacement Peak Rewards card will only be issued with proper valid government issued photo ID.
13. The rules of specific promotions for members of the Peak Rewards Club may vary.
14. Players Club members may not sell prizes redeemed or won through any promotion on Pueblo land. Anyone caught violating this rule will face a penalty.
15. Players Club members' use of the Peak Rewards card indicates acceptance of the stated rules and conditions.
16. Any person involved in fraudulent activities may be prosecuted.
17. Food discounts may be applied for up to a party of four.
 

The food discounts may not be combined with any dining special, offer, or promotional discounts. Discounts cannot be used toward the purchase of alcohol.
18. Management reserves all rights to change, alter or cancel this program at any time
without notice to the public.
For complete details, visit the Players Club.